Convo Cups
Winter 2020
Role—
UX Research
Experience Design
Prototyping

Tools—
Fusion 360, Illustrator, 3D Printing

Collaborators—
Ashten Alexander
Chandler Simon
Ryan Stephen
A mediation device designed to ease the process of making meaningful connections for assisted living residents.


Challenge
How might we design an experience to help residents in assisted living communities create meaningful connections?
Solution
Convo Cups is a social tool used to build connection between residents as they have transitioned into assisted living communities.

The cups are served in the dining room and they glow as they get closer to the designated hub at a table. Once both cups are placed on the hub, a conversation starter is printed out that sparks conversation.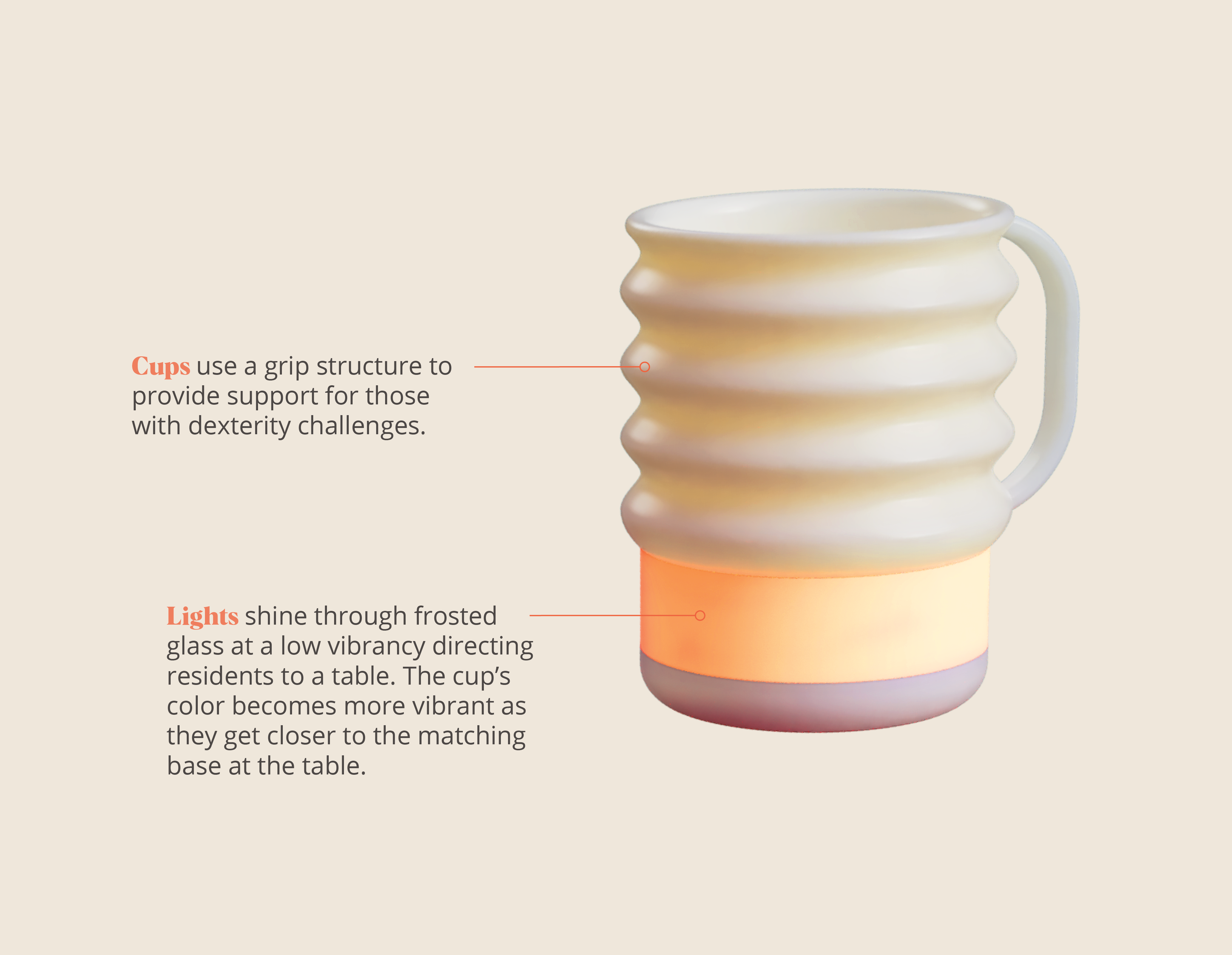 Contextual Inquiry
We asked eight participants to tell us about their experiences living in assisted living communities. This activity helped us gain an understanding about their daily life routines, interactions, emotions, wants, and the needs of our audience. By visiting multiple care facilities, we were able to cast a wide net at the challenges that residents faced.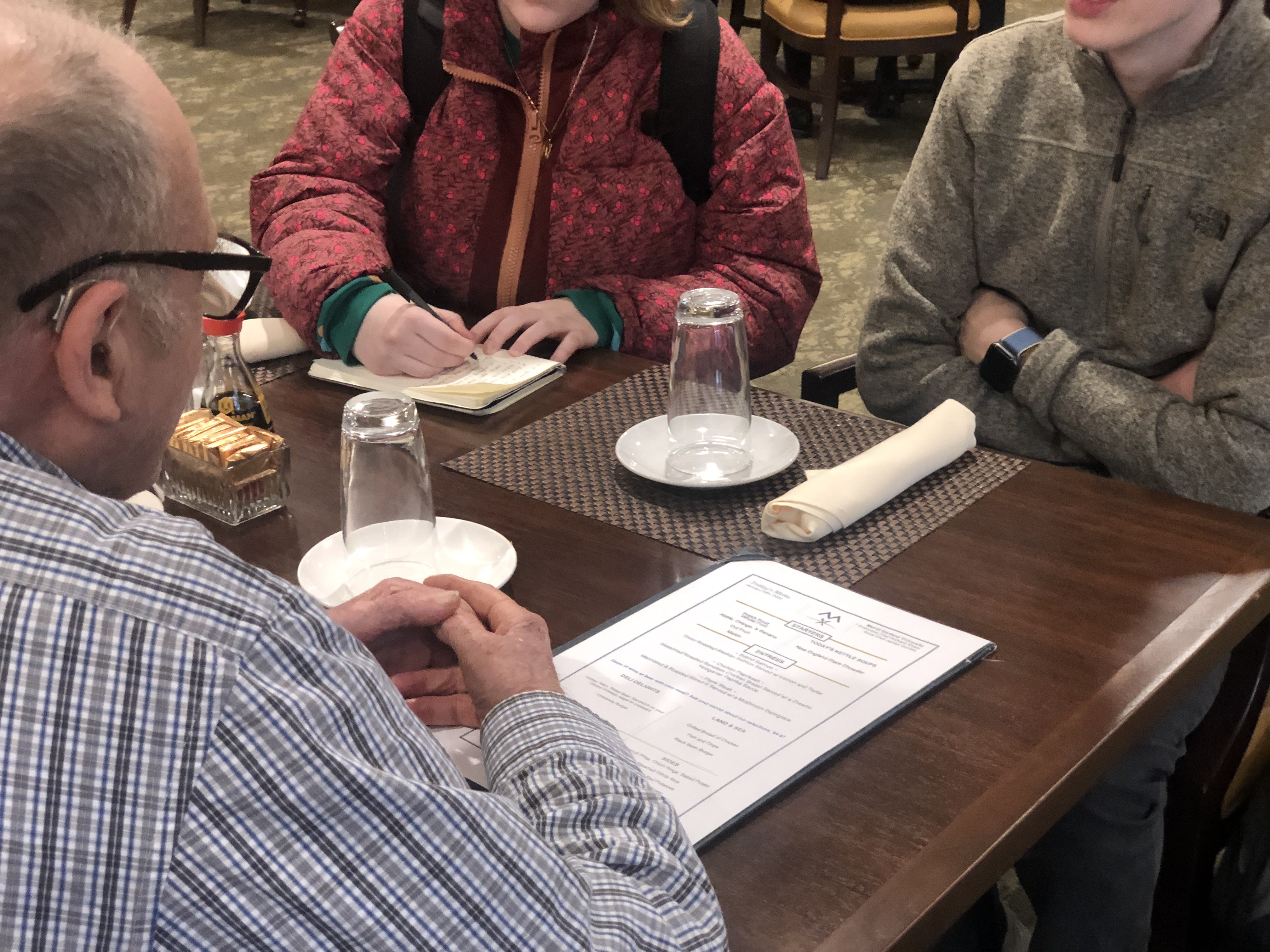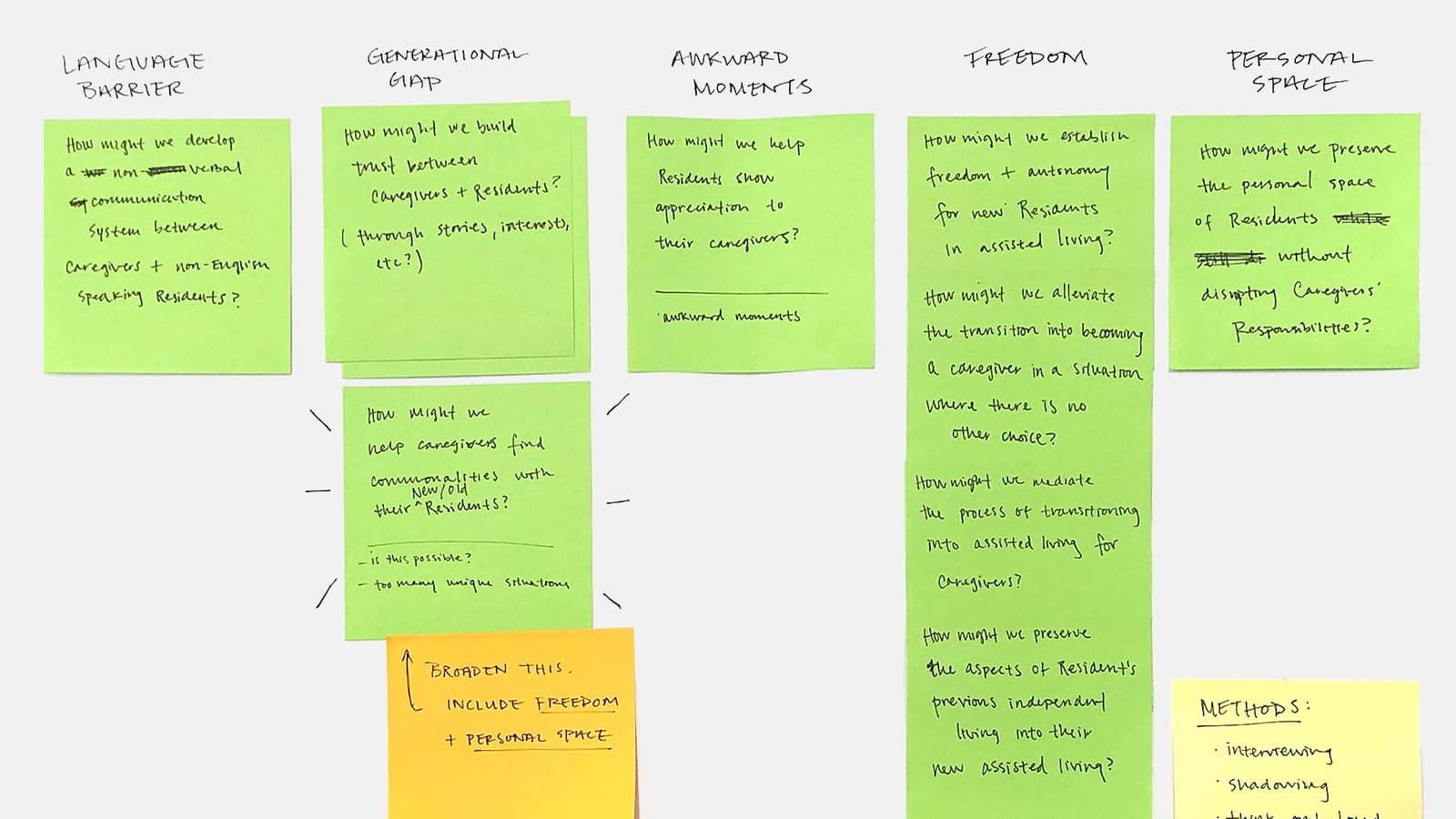 Design Opportunity

Our initial research and insights led us to identify a clear design opportunity: the transition into assisted living facilities.
Ideation Sprint

We ideated up to 60 different ideas that reimagined the process of transitioning into assisted living communities for the elderly, ranging from projecting memories on a wall to a button that gives residents the freedom to open their door for their caregivers.
Refined Concepts

We narrowed down our ideas based on our design principles—leaving us with 3 very distinct concepts.
Participatory Design

As part of refining our ideas, Ashten and I conducted a participatory design workshop with different research exercises. By utilizing our insights from this, we were able to tease out inconsistencies within our ideas to ensure that we were still creating a meaningful product.
Contextualizing

Between our initial design principles and where our research had taken us, we made a pivot to focus on the relationships between residents instead of caregivers and residents. We then worked to imagine how our audience would interact with our product concept through a storyboard.
User testing

Designing for an older audience meant that accessbility is a priority. We prototyped cup molds for our participants to try as they talked to us about the mugs they use in the homes. We spoke to those with arthritis and dexterity issues as well, which gave us a bit more insight on building our product to accommodate for different needs.
Prototype
Made by modeling, 3D printing, and soldering electronic parts.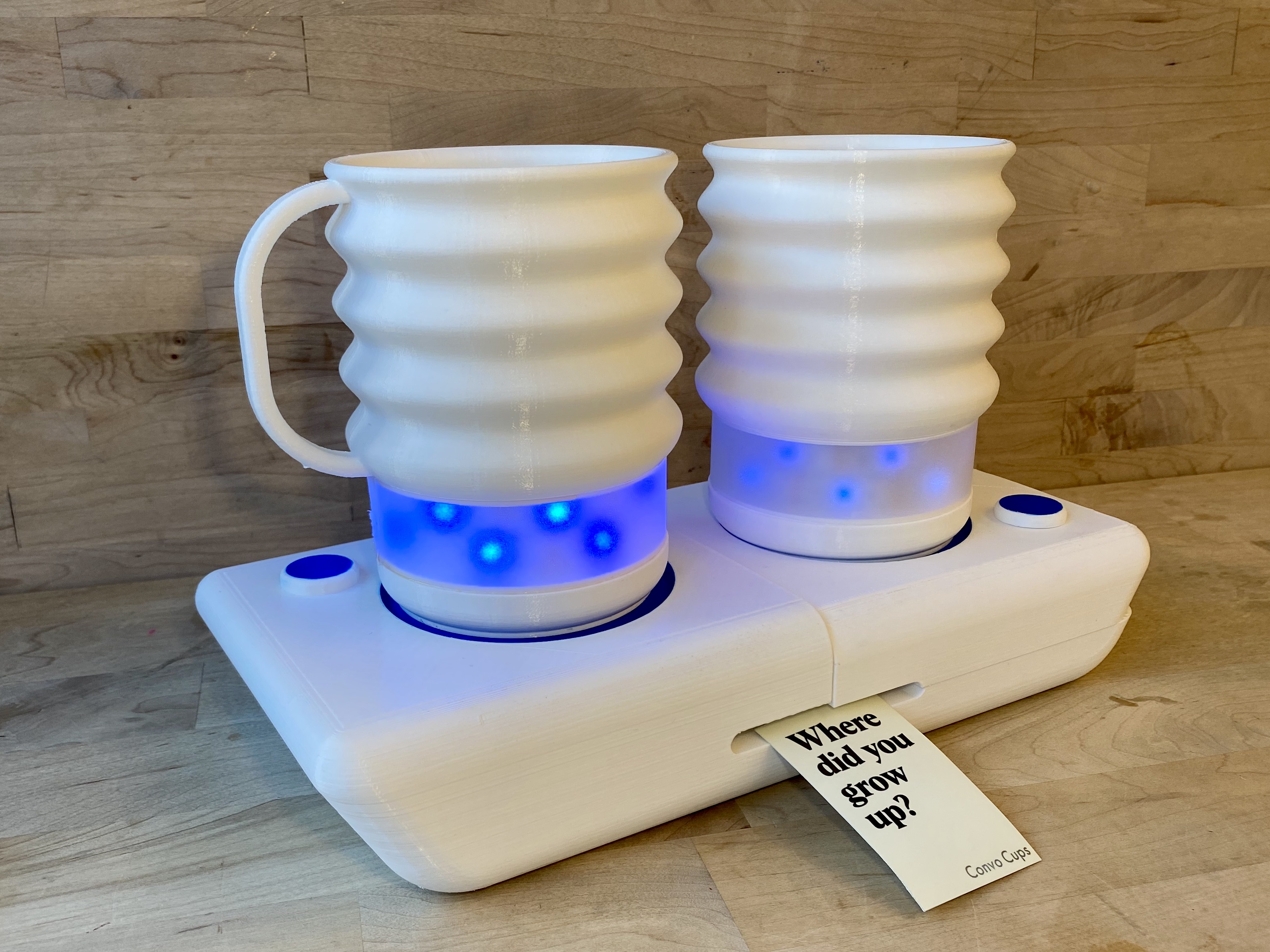 Full write-up ︎︎︎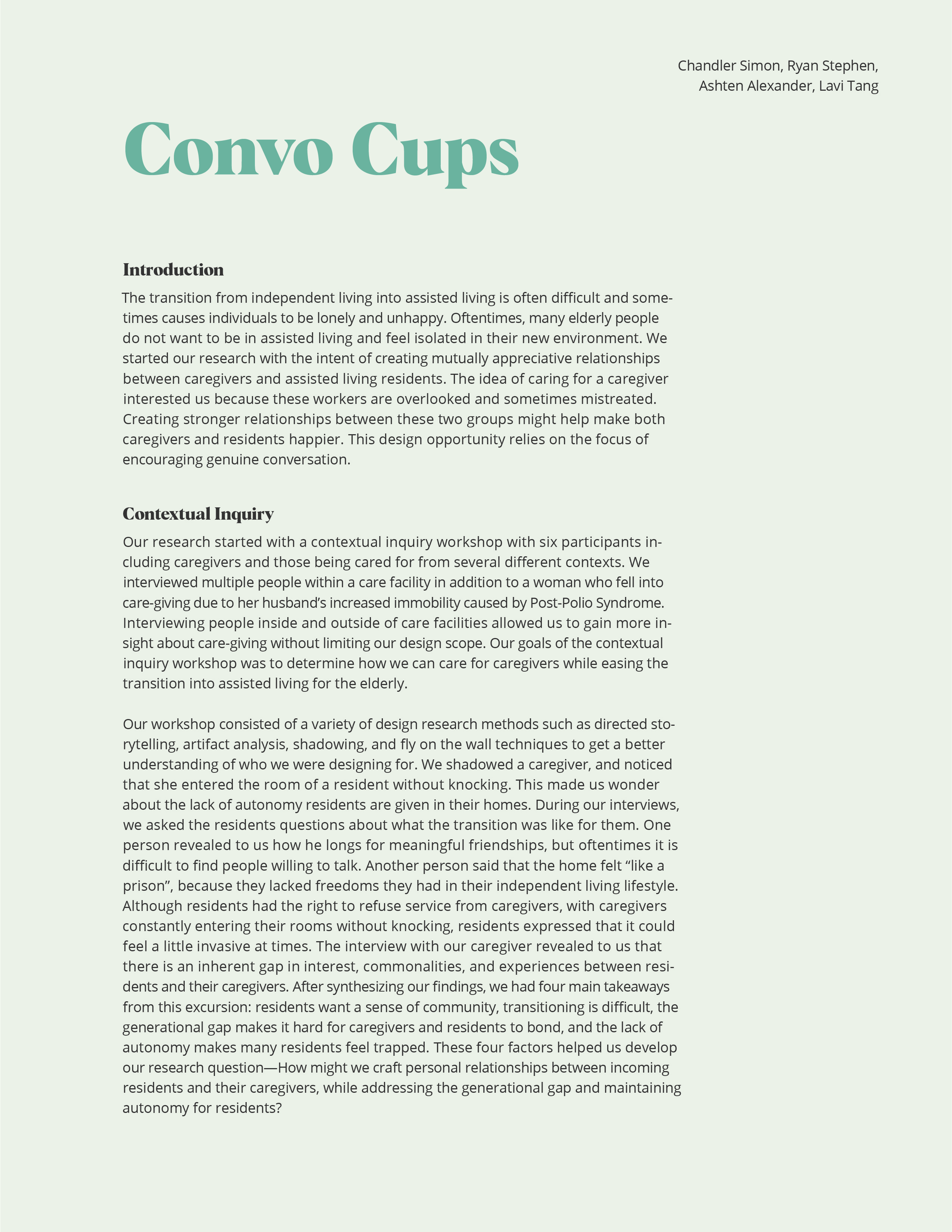 Reflection

Creating Convo Cups has been one of the most rewarding projects I've worked on. It sparked my passion for crafting intentional and research-driven design—working closely with the users pushed me to be an ally for them. It also inspired me to constantly seek answers, stay flexible, and trust the bumpy process.

A special thanks to my team and our participants for opening their homes and sharing their stories with us.